INNOVATE R&D
Established in 1986, Refine Machinery Co., Ltd. is an OEM of machine parts located at Dali City in Taichung. In 1988, the company bought CNC machines – including Takisawa & MAZAK Brand three-, five- and multi-axis machines – as part of its business expansion to provide better and more sophisticated R&D services to its customers, with the aim of helping them to reduce cost and grow talent.
2D planes were used to show machining works while the controller's talk function was used to input data. However, the task was particularly challenging when the part's shape was complex and required many changes with many axes working at the same time.
All this changed following the implementation of CATIA. After importing CATIA multi-axis and machining function, all the data can be translated to 3D to build and show, reducing any potential misunderstanding. Refine Machinery and its customers can discuss and update any changes before manufacturing the parts. The OEM can also use the debug and check function to reduce any problems when setting up the machining processing program. The main advantage of the five-axis machine is its very useful function that increases machine efficiency.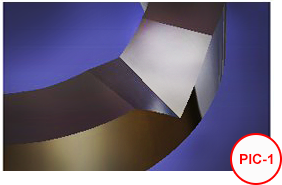 In post customization, Refine Machinery uses IMS POST, which provides a full macro programming function, helping to produce the NC code and match the five-axis machine. There are still a few problems due to the limitation of the multi-axis turn-mill machine, restricting the machining range. For example, the turn-mill machine has a limitation on X-, which will break if applied in Polar Interpolation machining mode. In this mode, the part can be moved by rotating the X- area to X+ using internal controller transference. This ensures the accuracy, efficiency and proper functioning of the machine.
G12.1 X13.659 C-11.977 Z29.95 (OP NAME: ZLEVEL.1 ) (START OP: 3X ) G97 S7900 M203 M248 M210 G1 Z-.05 F1000. M211 X11.961 C-12.048
G2 X11.889 C-10.353 R1.2 G1 X12.089 C-10.136 F400. G3 X15.806 C-2.458 R15.358 X14.829 C-1.07 R1.2 F3000. G1 X13.439 C-2.049
After applying CATIA to the production process, Refine Machinery has the following experience and tips to share:
1. CATIA 3D View has improved the connection and checking of processes.
2. Using the multi-axis machine function overcomes many problems.
3. Through increased training and experience, a good method for multi-axis that improves efficiency is discovered.
4. Train employees on CATIA to improve turn-milling machining skills.
5. Development and manufacturing of precise parts lead to remarkable success.

Refine Machinery's Website:http://www.prefine.com/index.htm